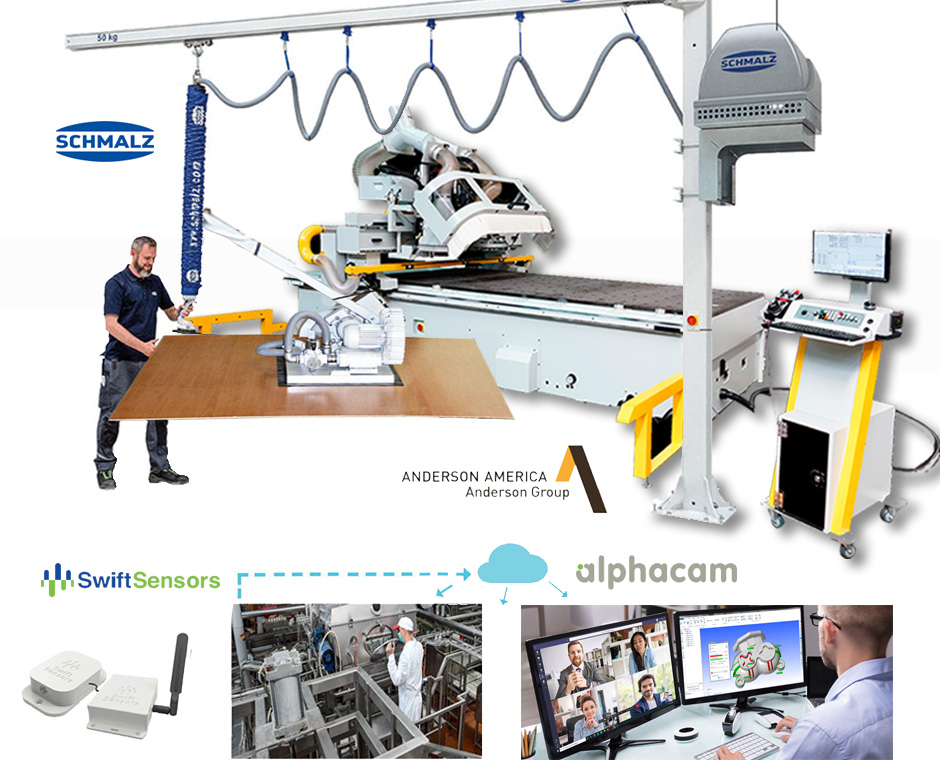 Anderson American Anderson is focused on providing the most advanced CNC routers that companies can rely on for the decades to come. To achieve this goal, our Engineering staff designs our advanced routers starting with the world's best CNC Controller. We then build to the strictest industry quality standards.After the build, we back our products with most experienced Technicians in the US industry. Anderson Specializing in 3, 4, 5 AXIS machines. Standard CNC offering PTP, Selexx, Stratos, Exxact and Andimaxx. These centers form Anderson's standard production series and when joined by our fully customized machines, offers our client a solution that is both well engineered and to the most exacting of standards. See:
Anderson America
Swift Sensors is a cloud-based system of small wireless devices that proactively manage your critical manufacturing equipment. Swift Sensors are trusted by some of the largest manufacturers in the world to act as their complete monitoring solution. Plant Managers install our small wireless monitors on equipment they need to measure such as cnc machines, welding units, injection molding machines, pumps, compressors, condensers, electrical power supplies, etc. For compliance and quality control, Plant Managers set specific ranges they want to monitor. Plant Managers setup Notifications which are alerts that are sent when thresholds are met to help eliminate unplanned downtime. See: Swift Sensors  

ALPHACAM is intelligent and intuitive CAD CAM Software for Woodworking, Metal & Stone Cutting. The emphasis behind ALPHACAM is to provide customers with productivity, reliability and flexibility. This can be found in all our modules which include Routing, Milling, Turning with 2-Axis to 5-Axis Machining.

Ease-of-use is just one of the reasons that ALPHACAM is the industry standard and system of choice for programming CNC routers. Tooling and machining techniques unique to this industry are accommodated by ALPHACAM's dedicated Router modules.See:Alphacam

Ultimate Manufacturing Technologies specializes in finding you the correct machinery for wood, stone, plastics, metal, composites, and related manufacturing. Ultimate Manufacturing Technologies is a full servicing machine and tooling distributor. We train on all machinery and program 3,4 and 5 axis CNCs.


Machinery Representation:

Anderson , Schmalz, Voorwood, Italpresse, Entecco/Nestro, Koch, Swift Sensors, U.S. Air Compressor, Vitap, Dubois, Doucet, Denray, Powermatic, Ritter, Leadermac, CanTek, Baker, LMC and more

Software products include Alphacam, Cabinet Pro, KCD, and Artcam.

We offer ALPHACAM TRAINING in-house or we will come to you!



©2020 Ultimate Manufacturing Technology. 901 S. Hohokam Dr. Tempe, AZ 85281 (480) 966-2000 email: sales@ultmt.com